About Innovative Plastic Molders, Inc.
As our name states, Innovative Plastic Molders, Inc. provides cutting-edge solutions for the efficient and economical production of high quality injection molded components and assemblies. Technical services which include engineering, tool design, automation, cost analysis and application engineering methodology are all the standard, backed by many years of specialized experience in plastic injection molding.
Our spacious, modern, and versatile 120,000 square foot production facility, combined with our knowledgeable and motivated staff with years of injection molding experience will be applied to your project to accommodate your individual needs. Our 30-plus electric presses, ranging in tonnage from 75 to 1,700, are capable of producing the most intricate parts to the most exacting specifications. We also provide the necessary value-added work, such as decorating, assembling, and specialized packaging which can be completed in or offline, depending on your particular needs.
Associations:

We are an ISO 9001:2015 certified company that strives to provide the highest quality tooling and custom molding at a competitive price, in the shortest time possible.
OUR CORE SERVICES
Combined with these advantages is an efficiently operated facility, staffed with experienced personnel and craftsmen who have proven track records and take pride in the quality of their product. Thus you can be assured of economical, dependable service of injection molded parts when you partner with Innovative Plastic Molders, Inc. Our Services include but are not limited to:
CAREER OPPORTUNITIES
Join Our Winning Team at Innovative Plastic Molders.
At Innovative Plastic Molders, we provide rewarding career opportunities and right now we are looking to hire a few good men and women. Begin your application process online today. We have several positions available for immediate hire.
Our Benefits Include:
Family 1st Work Environment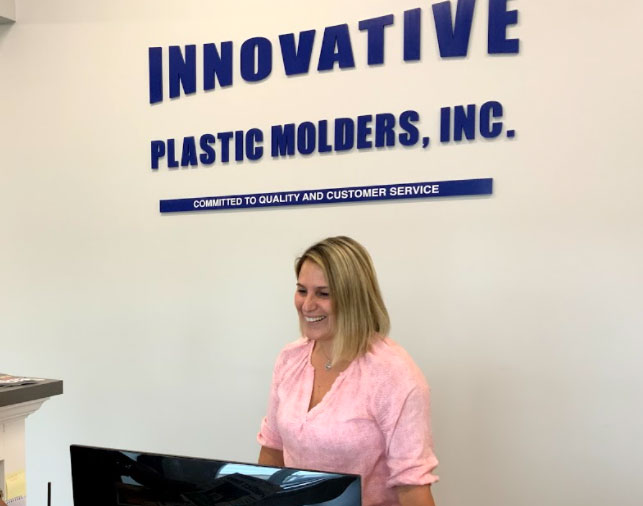 OUR TESTIMONIALS
Here is what our clients say and think about us.
Innovative Plastic Molders has been a pleasure to work with. I have completed multiple project with them and my expectations have been exceeded every time. Highly recommended.
I had tried working with several other molding companies before finding Innovative Plastic Molders. What a difference. These guys really go the extra mile and everyone is some attentive to my needs.
The President is very passion driven individual! He is willing to spend money to benefit his employees and make the work-life balance conducive for all his associates. You'll see him on the floor working side by side with everyone. It's not often that you will find this happening.
Ownership and executive management are working for an inclusive and diversified organization with a team and family of associates that are ready to take the next step in growth!